In 1999, MCMF offered a harp concert in our area which included a rare combination of harp styles. it included Celtic, Medieval, Latin and Contemporary harp. it was a radical idea to bring what were hitherto separate styles with separate audiences, together on the same stage. It seemed it was an idea whose time had come.
Despite a torrent of rain, the line to attend went around the block; and MCMF sadly had to turn folks away.  From the side of the stage and looking out to the diverse and happy audience, director Diana Stork formed the idea for the Festival of Harps. And thus began a concert series that has continued up until this day. (Read more about the Festival of Harps on our website).
However, due to the Covid-19, live concerts are no longer possible. And even though zoom concerts and Facebook Live etc. are happening, the MCMF Board has decided to mark our 30th Annual Festival of Harps by focusing on our mission to educate. We have started this by offering 10 scholarships to Cheryl Ann Fulton's Harp Secrets online course. Cheryl's course is a holistic harp method to help harpists develop an expressive, healthy, and richly musical approach to playing harp. The course is appropriate for all styles of harp (pedal. Lever, lap, Latin, historical, etc.), and for all levels of proficiency. HarpSecrets.com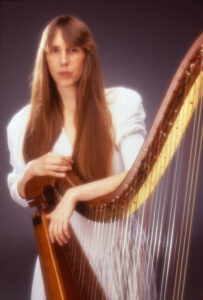 MCMF Board Member Brenda Chen has created a lovely Facebook page for MCMF. This is a work in progress; and we'll be adding to it over the next few weeks and months (and years!). Please become our Facebook Friend and Like and Share:  https://www.facebook.com/multiculturalmusicfellowship/
We will also be sponsoring the Harp Club at John Muir elementary School by providing harps to 7 students, and funds to pay harpists to perform for the children. This group is led by our wonderful board member, Alexis Lyon and includes predominantly African American children. They just love!! Alexis and are devoted to their Harp Club.
MCMF is continuing to teaching the beautiful music of Latin America to young children on colorful lap harps generously donated to MCMF. If you'd like to sponsor harp lessons and harps for children in the Bay Area, please contact us.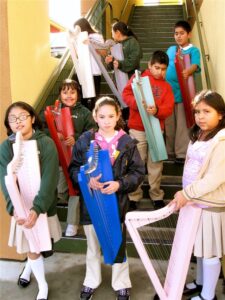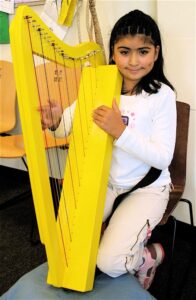 MCMF's longtime volunteer and avid local harpist, Laurel North has made a number of bright and beautiful new cases for some of our harpsicles. These colorful cases will bring some real happiness to the children that are using MCMF's harpiscles this year. Thank-you Laurel!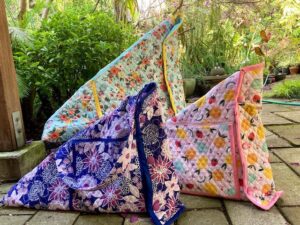 We thank-you for your continued support, and encourage you to pick up an instrument, sing a song, tap a rhythm, and of course if you can, help MCMF with a contribution to support our efforts. It's a great time to play and hear more music!
~To a World in Harmony
~Diana Stork, Director